They say the first step to self love is forgiveness.   I have the secret to forgiveness and I give it away in my presentation here called 10 Second Ceremonies – The Secret to Forgiveness & Inner Peace:
This is the video I did about how to listen to what our body is trying to communicate to us called What Is Your Body Expressing To You?
Here is a video called Essential Reconnections & Self Empowerment.   Some of the most powerful women on the planet join me in this video.   This was Heal It Forward's first of many trips to Dallas/FW area.   (see info about each speaker in the info section of the video)
Want to get a free copy of the report that Norah Ramirez Dykema did on Divine Partnerships?   https://www.socialnetworklaunch.com/rivervalleyhealing
Here are the classes we did that relate to this…    https://josephzenner.com/events/
Hope you enjoy and share our video called Ridiculous Self Love Quickies!
Here are the links mentioned in the video!
Huge thanks to Nichole Webb Rivera, Cajun Rose, Brett Hinds, Linda Oechsel, & Cherrie Ellis for their help with this and for their willingness to be Ridiculous!
Here is our FaceBook group called Heal It Forward: https://www.facebook.com/groups/Spiritualabundance/
To get your free EOIEHA analysis done as mentioned, just friend and message me on FaceBook – https://www.facebook.com/joseph.zenner  You can also find out about the miracle of oils at https://josephzenner.com/oils/ (I highly recommend a video called My Chemistry Made Me Do It)
Want to take a 30 day self love challenge?   I found this amazing women on the internet that changed her life and can show you how to do the same:  https://www.youtube.com/channel/UCsNOr7Aggz-5-rKIyLn5kEA
The art (being inside being inside being) was done by Chris Morphis – http://www.morphisart.com/
For more information on Ridiculous Coaching and ThE RiDiCuLoUs HoUr radio show, check out https://josephzenner.com/ridiculous/   (You can find interviews with Teal Scott, Franco DeNicola, Pilar Marshall Torres, and many other Ridiculously amazing people.   Soon we will have on Andrew Bartzis and Marcia Wieder, so stay tuned.)
For more info on following the Mayan Calendar, I highly recommend my friend Mariela Maya's newsletter:   http://mayankin.com/
To learn more about Teal Scott and her oneness teachings, you can find her on YouTube or on her site here: http://www.thespiritualcatalyst.com/
To find our more about EFT (Emotional Freedom Technique), you can search the internet or check out my favorite practitioner Helen Racz at http://helenracz.com/.   What EFT can do may surprise you if you haven't heard of it.   This is backed by Dr. Bruce Lipton who is one of the smartest people in the galaxy…
For the healing (for sleep) and sacred geometry meditations (as well as many other greats): https://josephzenner.com/meditation/
To find out more about Pilar Marshall Torres and her book coming out, please join her FaceBook group:  https://www.facebook.com/LucidLiving1
To find out about Mind Movies (a software that allows you to add your pictures and affirmations and it creates a video): http://www.mindmovies.com/?26330   If you need help making your first one, just ask me…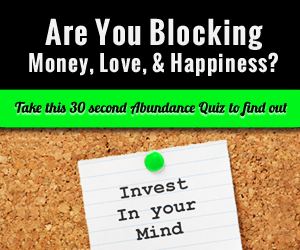 OTHER SELF LOVE LINKS, TIPS AND TECHNIQUES:
This is an amazing video I just found on wanting and desire:
I highly recommend this free course for getting clear on your soul purpose:  http://lawofemergence.com/emergineering/
Until the end of the year, there is a ton of free speakers in a series called FROM HEARTACHE TO JOY…
My favorite Abraham Hicks Video:
FIVE techniques for immediate smiles:
1) Personal High Five (just try it, it works)
2) Kiss The Bicep (this is a great one for the shower or anytime)
3) Bow To Yourself Then Kiss Your Hand…. important to do it to both hands due to jealousy between the left and right brain…
4) Lightly touch yourself all over your body… Every inch… Just try it, what have you got to lose?  Caution: you may turn yourself on….
5) Smile – even when forced this changes your emotional state and can often lead to you laughing at yourself for being such a dork that you are forcing a smile…
——————————————————————
TWO techniques to get out of victim mentality:
1) "I irritate me when you do that" – (William Lynch) – just say this in your head when someone irritates you… advanced level is to say it to who you are speaking to…  repeat it as often as necessary until you get it…
2) Replace all of your victim stories with I or ME for every time there is a  HE/SHE or THEY… If you don't buy the Oneness concept, this won't make sense, but it will still work…  This is an exercise to own that all of your reality was created by you…  If you are very resistant to this don't do it… or do it…  It will blow your mind if you replace all of your stories in this manner…  yes, I realize this can get deep…  there is enough love on this page to handle this or I would not post it here….   please contact me personally if this brings up anything you are not comfortable dealing with on your own…   I'm not claiming this is correct or right, just that it works to release pain…
——————————————————————
FOUR techniques for self love and confidence (Our Self Worth is directly proportional to our income IMHO):
1) 18 Affirmations from Wayne Dyer – read green ones here twice per day while walking in a figure 8 pattern: http://freespirituality.com/dr-wayne-dyer-excuses-begone-18-affirmations-list/  (the infinity pattern stops our left and right brain from conversing during this re-programing)
2) Watch Teal Scott video on Self Love – http://youtu.be/zQHv75ahYDQ – Take the challenge?  (get a friend to do it with you and talk about your results.  This will help you stay on task)   Here is the Teal video on money – http://www.youtube.com/watch?v=K1tiHT3lJX8    (for more Teal Scott you can catch the interviews we did with her on The Ridiculous Hour here – www.locallivehouston.com/archives/ridiculoushour)
3) Louise Hay teaches some things about money that I had to include as they just really hit home for me.   She teaches that we should LOVE paying our bills… It demonstrates our ability to pay and our resistance to paying them stops the flow of money…   As for as what we get paid to do:   "I am deeply fulfilled by all that I do….Begin to bless your current salary with love. Expressing gratitude for what we already have enables it to grow."  For those more into videos, here you are…
4) Write your dream year out on paper.   Write down each month and what you would love to see happen in that month…  Make it "fictional" and don't hold any care as to whether it actually happens or not… Read through this list daily and add to it as you go… move things around from month to month if you like…  Since I do all the things I offer to people, you can check out mine here… https://www.facebook.com/groups/Spiritualabundance/doc/575171272517450/
——————————————————————
Replace habits with awe…  This video will help…
A great video on happiness:
Breathing is critical – helps to stop smoking or other habits:
1) Kundalini Breathing Technique – http://youtu.be/mvdiMjSgItg  (check out all videos by this yogayak on youtube)
There are tons of other practices that are great… These are the ones that I selected…
Check out the Healing and Sacred Geometry Meditations by clicking here… www.josephzenner.com/meditation     I recommend Sacred Geometry one twice per day and Healing Meditation before bed or nap…
ANYTIME – Check out the series we are putting on in Houston on the Kundalini and associated breathing exercises… You can check it out from anywhere on the globe for $19 (two courses for this price)… https://www.facebook.com/events/431930983581808/
Thanks for this song Nati…
Here is a technique my friend Randa Fox sent me for getting stuff done around the house:
POMODORO TECHNIQUE
Are you looking to get more from your day? Want to avoid spending
your precious time reading even more books on productivity? You
may benefit from the Pomodoro Technique.
This method simplifies time and task management with a single,
simple tool: a timer. Try this effective step-by-step method for using
this tool to maximize your productivity.
1.CHOOSE YOUR TIMER
? The title, "Pomodoro Technique," is based on the tomatoshaped kitchen timer, but any timer will do. You may benefit
from a physical device that you can set and reset manually.
? Alternately, you may prefer a software application that offers
greater automation.
2.TRACK YOUR SESSIONS
? Use a sticky note, notepad, piece of scratch paper, or your
computer.
? A spreadsheet program such as Excel can work nicely.
? Use check boxes to track every session that you complete.
3.SET YOUR TIMER FOR 25 MINUTES
? While the timer is running, work without distractions.
? A Pomodoro session can be stopped if you must, but it cannot
be paused or restarted.
4.TAKE A QUICK BREAK
? When the timer goes off, stop what you're doing and take a
break.
? Your break should last at least 5 minutes, but not much
longer.
5. AFTER 4 SESSIONS, TAKE A LONGER BREAK
? When you've completed four successful Pomodoro sessions,
take a longer break.
? Now is a good time for a 30-minute rest.
? You may find it refreshing to have a snack, meal, or even a
short nap to recharge before beginning again.
Here is a summary of tools for empaths: http://serenereflection.wordpress.com/2013/06/22/tools-for-empaths/
Here is a great affirmation that my friend Michael Fowler allowed me to post here: (Find Michael at http://www.facebook.com/michaelfowler222)
Statement of Divine Abundance ( spoken out loud daily) Today, (mm,dd,year) I Acknowledge I Am An Eternal Being OF Infinite Divine Light. I am an embodiment of endless love, peace, purity, power & bliss. Originally and eternally, I am safe, I am secure and I am complete. Being the light that I am, I need nothing, I have already attained everything, and I'm free. I recognize that through time and influences, I came to believe in distorted perceptions about my identity and the world I perceived around me. I limited my abundance by believing I was just a mortal being, surviving in an external world of lack, limitations, man-made laws and human possibilities. I now acknowledge that I am a powerful, immortal spiritual being and the world I perceive is simply a mirror of my own inner state of consciousness. I accept the power within me to change my attitude and vision and therefore manifest a new reality around me. I am never a victim. I am the creator and artist of my life and my world. I am an extremely powerful infinite consciousness and exist before and after death. As of today, I am fully released from any past blockages and fears around money. I am now happy, willing and grateful to enjoy the abundance that is my divine inheritance. I accept that physical wealth is a part of spirituality and I wholeheartedly welcome money and wealth to flow fully into my life. Money and wealth are healthy, natural and good and there is always more than enough for everyone. I now reconnect my awareness to the unlimited light I am, and draw upon the Ultimate Source of All Abundance, the Constant Ocean of Love, the Unlimited Supply of Pure Light and Infinite Wealth. As I breathe now, I am deeply nourished by this radiant light and love and I re-experience my own eternal wealth and prosperity as an eternal child of God, the Ocean of Limitless Wealth and Constant Bliss. From today, all good things I now think and feel become manifest. Truly I have attained everything, right here, right now and forevermore. Money is forever flowing in my life and there is always divine surplus. Thank you. Thank you. Thank you!!
Thanks for making it this far down… Here is something my friend Jessica Robison posted that I thought was a great summary: